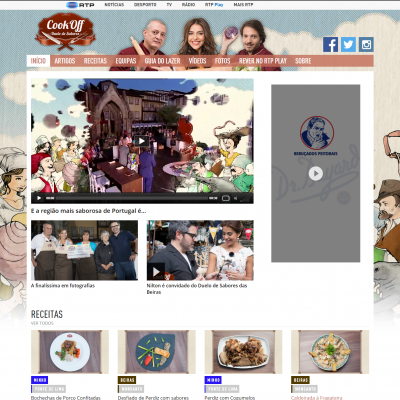 RTP Base
This is a WordPress parent theme and framework I built for RTP. It powers all the station's new websites.
The parent theme & framework for all the new RTP websites
The creation of this framework effectively reduced the amount of time spent developing themes and was a step towards a more DRY workflow. It made it very easy to make changes network-wise on all websites and created a standardized development workflow.

The theme powers over 15 websites at RTP. These are some where I was involved:
Treze – web developer (single)
Donos Disto Tudo – web developer (single)
80 Anos Radio – web developer (single)
The Voice Portugal – web developer (team)
Jikulumessu – web developer (single)
Bem Vindos a Beirais – web developer (single)
Os Nossos Dias – web developer (single)
Festival da Canção – web developer (single)
Nos Alive – web developer (single)
Ensina – server migration
Newsletter – web developer (team)
Homenagem de Carreira – web developer (single)